So I planned to post this days ago, but things kind of got in the way. By things mean life and, well, got in the way has no hidden meaning..
I've wanteed to share the inner contents of my current bag (the Elen Gotti that I mentioned in
this
post) for what seems like forever and finally got around to taking pics a few weeks ago. Keep in mind that the camera used was fairly useless. It took at least ten tries each time to get these. Stupid camera wouldn't focus. That shouldn't be much of a problem anymore though. A spur of the moment birthday present=new camera. Hopefully new camera=more pics. That is, if life doesn't keep getting in the way.
Anyway, onto the pics...
The Bag
Again, the pics do it no justice. Seriously,none at all. It has gorgeous soft pebbled leather effect going on and is actually a rich brown shade. Think, roasted coffee..yum! Plus, the strap, sooo useful. I think I finally understand Rumi's obsession with them..straps, I mean.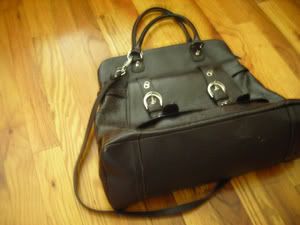 More detail. You can sort of see the patterned leather.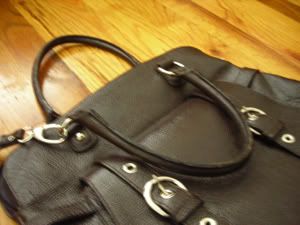 The contents, guts if you will. (Clockwise: Glasses Case-F21,Ennzo Angiolini sunglasses-hidden inside, Change Purse-H&M from years ago, Makeup Bag-DKNY..it holds EVERYTHING, encased Metro Card, Keys, "Wallet"-Coach...I pretty much carry only cards which explains the small size)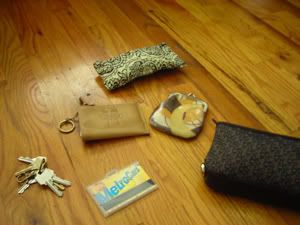 Makeup Bag up close. I wasn't lying when I said it holds everything.Seriously, there's hand lotion hairclips, multiple mascaras, eyeliner and at least three lipglosses in there and that's not even the half of it...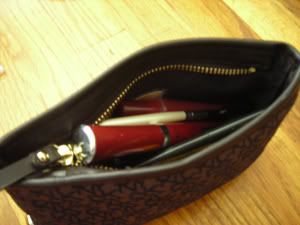 Missing: Blackberry Curve+ the mini leapord print umbrella that I take everywhere(I'm seriously afraid of geting caught in the rain)..




Oh, and my new camera. It's a Canon Powershot SD850 IS.