What rock have I been living under that I didn't know about this???

MKA were at Barnes & Noble at Union Square in NYC on Monday and where was I...pssh, not there obviously...Let me break it down for you guys. I go to school about 5 blocks from there. FIVE BLOCKS!!! I would have happily ditched class for this AND followed those 9 rules...(you guys can now probably figure out what uni I attend, and no it's not that film school or The New School).

I've decided to blame it all on midterm week (and the pointless Journalism as Literature paper that I'd been stressing about all weekend), but I am still really peeved. Worst of all, I was going to buy the book!!! I'll just have to settle for the unsigned copy that I'll pick up later this week AT THE SAME LOCATION. Crap, I'm mad all over again...


Oh, and see what I meant about the pumps???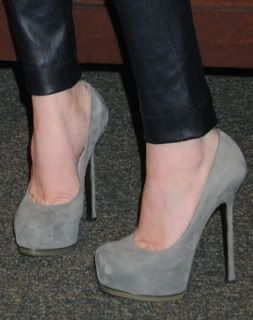 I loved these so much, I scoured the internets for a good long while, searching for the perfect dupe. No luck, but I found their blazer equivalent in the Old Navy clearance racks today. Grey, suede-y, and for less that $2o...uh, yes please. It'll look amazing with a very special item that I'm eagerly anticipating receiving. No hints, you guys are just gonna have to wait and see...
For your daily Olsen fix go here!
Photo credit:fametastic.co.uk