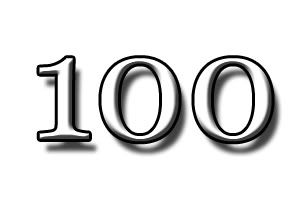 So it's kind of awkard beginning with an apology for my month long hiatus. Sorry guys. Things have been so busy lately. First a bout of sickness, followed by midterms. I cringe just thinking about it. I'm actually on a break from studying for microeconomics as I...type? (For those who care, I'm double majoring in journalism and economics...and it's hard!)
Whining aside, this is my
100th post
. When I started this blog earlier this year I waited for this day to come and it's finally here. I want to thank you all for your support and comments over the last few months. I'm honored that you take even a few minutes to read this blog.
I planned to do an awesome what's in my closet (dorm room edition) post since my room this year has the most awesome walk-in, but all my pics are on my computer, which is at school, where I am not...thus is the brilliance that is my life.
Anyway, I have some awesome news. To thank you all for your awesome support I have a gift for you all. With the help of the lovely Laura from
Jezzabelle.com
,Coffee over Conversation is happy to offer you a coupon code for 10% off of your final purchase.(The discount applies to sale items as well. How awesome is that?!) Just type in
"coffeeoverconversation"
, so easy!
I really suggest you check out the site. There's some awesome gems there, including this
Miss Mills Little Gun Necklace
. It's already on my holiday wishlist. So perfect for fall! (Totally wishing that hundred dollar was in my pocket...like right now!)
Also, Coffee over Conversation is being relaunched!!!!! Yep, you heard right. New posts and segments, a lifestyle element, more pics, outfit posts and tons and tons of inspo! Not to mention, regular updates!!!
Make sure to check back on Friday, the relaunch date/when my midterms are over.
Love and kisses,
Kim <3