Thanks to countless essays and dreaded economics exams, my days have basicaly been all about reading, research, and ridiculous levels of fatigue...all-nighters will do that to you. To top it off, I've been pretty uninspired. The chilly NYC weather and recent snow have pretty much dictated my fashion choices and to be honest, when you're running on less than three hours of sleep fashion is the last thing on your mind.
Inspiration returned briefly as I skimmed throught the pages of the March '08 issue of ELLE while at work today. I came up with a ton of new post ideas and realized some things...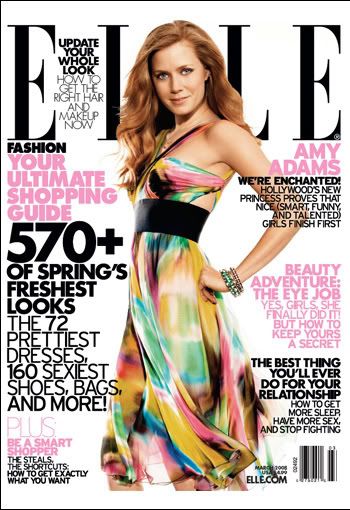 I wish spring would come already and bring its warm weather along with it. I desperately want to wear that dress that Amy Adams is sporting on this cover. It reminds me of this Old Navy dress that I almost bought about a month ago.
Sadly, I passed on it thinking that it would be on sale in the next few weeks and I could save a couple of bucks. Well, it's no longer on the store's website and it's pretty much vanshed from existence (the pic above, spotted on
Glamour magazine's website, is the only one I could find). You see, there is some merit to my impulse buys. Hopefully an equally amazing dress will cme along...soon. This time, I'm buying it on the spot.